Modern Day Slavery & Exploitation Training
Modern Day slavery, the illegal exploitation of people for personal or commercial gain, is often the hidden crime – which has devastating and lasting effects on its victims. The real scale of the problem is unknown – the Home Office predict that there are an estimated 10-13,000 potential victims in the UK, but with figures increasing each year and the fact that many victims are not being identified or reported, this is likely to be the tip of the iceberg.
We currently offer two strands of training around this topic:
a more detailed training for frontline staff and those in First Responder agencies who have a duty to identify, report and support victims
a more general training package aimed at increasing overall awareness (equipping those who may come into contact with potential victims in the course of their work with the knowledge of what to look for and how to respond accordingly).
What is it?
Modern Slavery is the illegal exploitation of people for personal or commercial gain. Victims of modern slavery can be any age, gender, nationality or ethnicity as anyone can become a victim providing that there is an angle of vulnerability to exploit. They are tricked or threatened into work and may feel unable to leave through fear or intimidation.
Modern Slavery encompasses a wide variety of exploitation types including:
sexual exploitation
forced labour
forced criminality
domestic servitude
This could include someone being forced to run drugs on behalf of an organised crime group or someone who is made to work against their will for long hours in poor working conditions for little or no pay.
Why is it important?
The Home Office predict that there are an estimated 10-13,000 potential victims in the UK. Known figures have increased year on year in the UK. However, many victims are still not being identified and reported.
The Modern Slavery Act was introduced in 2015 and Sec 52 of the Act places a duty on designated First Responder agencies, which includes police and local authorities, to identify, report and support potential victims.
For other organisations who are not designated First Responders, there remains a key role to play in identifying potential victims to ensure appropriate safeguarding and support.
Why should I attend?
The training is designed for front line workers and those who manage them to myth bust and help workers understand what this area of crime is about, what factors make people vulnerable, as well as considering the victim's perspective such as the barriers to disclosure.
Professionals from a huge range of departments and organisations have the potential to come into contact with a victim of Modern Slavery, from those with roles in Safeguarding and Housing, to those in Planning, Trading Standards and Environmental Health and other organisations that deal with the public.
The 3 hour session will help you understand the risks, be aware of signs you may spot in your work capacity, what you can do about it and give you information about the referral process for support.
If your work puts you in possible contact with situations where you may see signs of exploitation then this training will be extremely valuable to you. You do not need to have any prior knowledge of modern slavery or exploitation.
Awareness Raising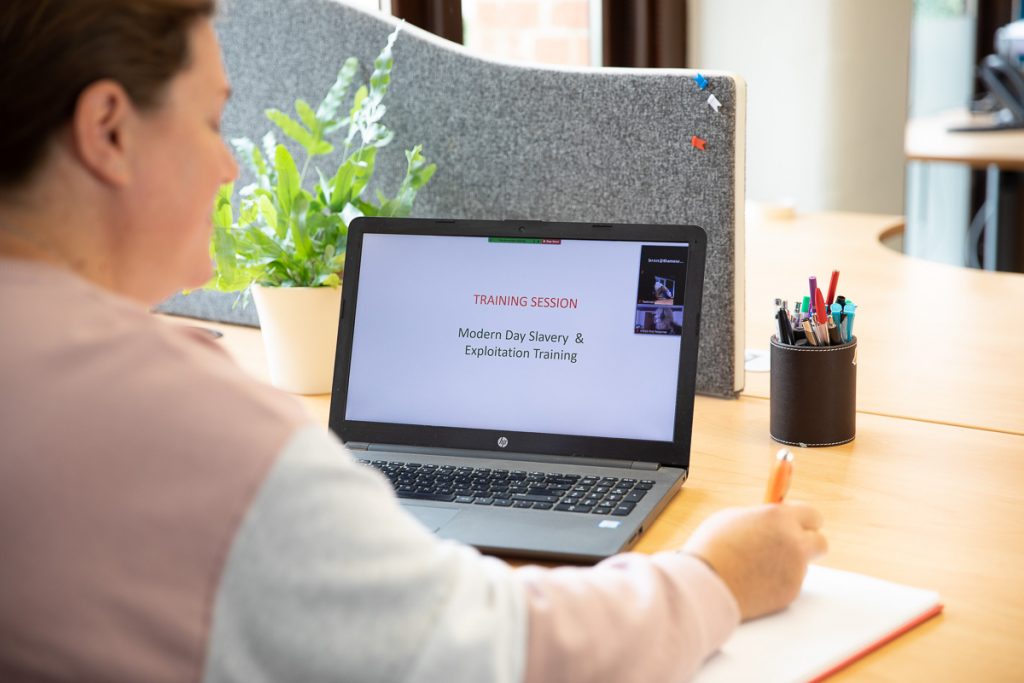 First Responder Training
It is important that Local Authority employees are able to recognise signs of exploitation and modern slavery in those that we may come into contact with through our work. Hundreds of colleagues have attended the basic awareness training over the last 2 years which has helped with our basic understanding.
A higher level of training is now being offered for those colleagues in the organisation who are safeguarding/exploitation/modern slavery leads so that they can guide others in their teams. This is important as Local Authorities have a statutory duty to refer suspected victims who are consenting adults and all children to the National Referral Mechanism for support (this makes you First Responders)
The First Responder training aims and objectives are:
• The role of the First Responder
• What is the NRM
• The process and each stage of the NRM
• The support offered through the NRM
• Challenges currently being faced when making a referral
• How to complete a referral
"Know the signs, know how to respond …. protect victims."