Partnership Working
We know that the only way to ensure lasting change for our service users is to have an integrated approach across agencies. If we work in partnership, we can identify and fill gaps more effectively and strengthen multi-agency working. Sharing knowledge, insights, resources and ideas can not only create innovative solutions to complex problems but also build an environment where we can  embed good practise into mainstream ways of working.
We work hard to build bridges, particularly linking criminal justice and statutory agencies to the voluntary sector and local providers.   We have built a position where, through our reputation, contacts and the insight we gain from our direct contact with service users, we straddle both camps.  That means we can see the nuts and bolts of the situation as well as the bigger picture.   If you think we can assist you, collaborate with you, provide training or services please contact us on 01844 202 001 or email admin@thamesvalleypartnership.org.uk
Some Examples…
We're delighted to be one of 16 specialist charities and partnerships funded by the Lloyds Bank Foundation for England and Wales as part of its 2020 Criminal Justice National Programme. With a strategic approach, we are exploring ways in which specialist charities can build capacity. Collectively, we can better support criminal justice agencies in their efforts to reduce reoffending and strengthen communities.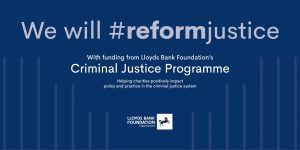 Making a positive impact on policy and practice in the criminal justice system.
The criminal justice system is currently under pressure; staff shortages, overcrowding in prisons, high rates of reoffending and desperate need for support for those impacted by crime
Specialist charities like ours have been successful in tackling reoffending, helping people turn their lives around and preventing people from falling into a cycle of crime. Yet, there is still a clear need, and chance ,to make changes to reform and improve the system and work in a more joined up way.
The Foundation's programme is supporting the specialist voluntary sector, charities like ours,  to gather evidence, speak up and use their expertise and understanding to help influence policy and practice across the new probation and wider criminal justice system.   Being part of this partnership has enabled us to create a new funded post for our Strategic Network Manager, Anna Fitchett, to work alongside other charities in the Thames Valley to this end.  For more information you can contact Anna at anna@thamesvalleypartnership.org.uk.
Charities funded through the programme are seeking to:
Make the case for better alternatives to prison, by intervening earlier to prevent crime and reduce the number of people going to prison
Improve how groups disproportionately affected by the criminal justice system are treated, such as BAME prisoners, young people and women
Improve how the prison and probation service work, by ensuring that specialist and small charities are properly involved and funded
"Working together to make lasting change."